<This page is now obsolete and is being saved/published as a historic reference to the unprecedented show of support by the community at large 

and the services provided by CIMIC during the pandemic>
---
---
CIMIC Committees and the local Muslim community took several initiatives during 2020 to ensure ongoing support for the community in these troubling times.
If you are looking for Ramadan specific initiatives, please visit our Ramadan under Covid-19 page
Note: This is now a reference page only for the community and not being updated, for all updates visit cimic.org main page
Initiatives taken at the onset of Covid pandemic included
Covid Related Announcements from Central Illinois Mosque & Islamic Center
Ongoing Updates:
Masjid premises remain closed due to COVID-19. Check the announcement here
For Ramadan services, please visit Ramadan under Covid-19 and stay updated
Please continue to follow CDC and CUPHD guidelines for personal safety
Request financial & need-based support(food, meals and medication)
via forms outside CIMIC, Email or call 217-344-1555 / 217-819-8112
MOHID Apps are now fully deployed for Online, Mobile & Masjid Kiosks.
*PayPal & Venmo are also now available for quick donations (although MOHID is preferred to help streamline your yearly records)
Download our newly launched iPhone or Android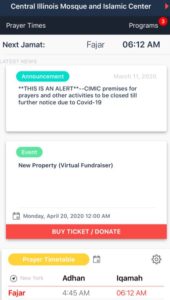 'CIMIC Connect' App to donate, receive urgent notifications, live videos & information on prayer timings

CIMIC's Sunday School is now Online via Zoom.us App.
Please look out for emails from the Sunday School for additional details
For all other questions or concerns, contact CIMIC IT Division for tech. support or to receive notifications. If you have experience in audio/video production please also reach out to us.